The TrenchDrain™ Grated Drainage Pipe System Near Vancouver, Surrey, Langley
Stop Flooding Through Doorways, Hatchways, & Entryways
What It Does:
Many homeowners have contacted us with concerns about water flowing into their home through hatchway entrances, down stairways, or through garage doors.
When we encounter this kind of situation, we usually recommend our TrenchDrain Drainage Pipe System.
Advantages To Our System:
Grated Openings Collect Flooding Water
Removable Lid For Cleaning & Service
Designed To Create No Tripping Hazards
Compatible With Our Other Drain Systems
Works With Radon Mitigation Systems
Includes A Written Lifetime Warranty
TrenchDrain resembles half of a basement drainage pipe, with a grated opening fitted snugly on top. The grate is flush or slightly below the floor, eliminating any tripping hazard.
It is uniquely designed to span doorways, hatchway entrances, and similar entryway doors. Any water passing over the drain is collected through the openings and redirected to your sump pump.
Free Basement Waterproofing Estimate
Get a FREE Quote!
Our five different French drain systems combine to solve any basement flooding issue -- no matter what that challenges you're facing! To schedule a free, no-obligation drainage pipe installation quote, contact us by phone or e-mail today! Our waterproofing specialists serve throughout our British Columbia service area, including Langley, Vancouver, Surrey and nearby.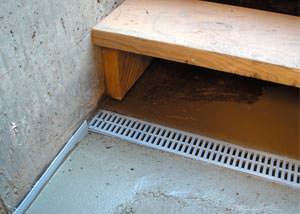 Our TrenchDrain System has a removable lid that can be taken off to remove leaves, dirt, or debris that could clog your system.
This drain can also be fitted with a ball-and-cup drain -- making it compatible with an existing radon mitigation system.
Stop Flooding Through Garage Doors
Many of our customers have the TrenchDrain System installed along the opening to their garage door. In this application, the drain will intercept the water and direct it to your sump pump system.
We always recommend installing the drain along the inside of the garage, where it's much less likely to freeze during the winter months.
Installing our drain along the inside of the door will also protect the system from clogging with outside debris, such as dirt, sand, sticks, and leaves.
When Draining Hatchway Doors...
When installing this system on hatchway doors, we will generally recommend installing them inside the hatchway entrance (instead of in the basement itself) when possible.
Since the TrenchDrain Drainage Pipe System includes a grated opening, it separates the drain from the basement as much as possible.
Install a Warrantied Drainage Pipe System In Your Home!
Including a section of TrenchDrain in your full-perimeter drainage pipe system does not add any additional cost to the completed waterproofing system. Even if your hatchway isn't leaking now, we recommend installing this system just in case.
We'd like to provide you with a free basement waterproofing quote for your home. Our free quotes are available to homeowners within our British Columbia service area and include an on-site inspection, a professional consultation, and a written, customized cost quote. To schedule your free quote, contact us by phone or e-mail today!
Looking for a price? Get a no cost, no obligation free estimate.