The WaterGuard® Below-Floor French Drain System Near Surrey, Vancouver, Langley
A Subtle, Below-Floor Drain System That Includes A Lifetime Written Warranty!
What It Does:
The WaterGuard® System is an award-winning, patented below-floor drain that rests in a bed of drainage stone on top of the foundation footing.
By installing the drain at this point, it's kept out of the "mud zone", the point where clogged drains are common. The unique shape and large drain openings of WaterGuard® also aid in preventing clogs in the system.
WaterGuard® is what we usually recommend, and is our most widely used drain system. It's popular because of its resistance to clogs, its easy-to-access service ports, and its ability to also collect leaking water from the basement walls.
Advantages To Our System:
Installed Out Of The "Mud Zone"
An Anti-Clog Design
Collects Leaking Water From Walls
Includes A Written Lifetime Warranty
Customers also appreciate how quickly this system is installed in a home -- which is done with minimal removal of the slab. All removed concrete is restored during the installation.
Our French drain systems are a key part of a complete basement waterproofing system, and help to provide a permanent solution for flooding. Our dealers are typically able to install a complete system in less than two days.
Basement drain installation quotes
Get a FREE Quote!
We provide free on-site cost quotes to homeowners throughout our British Columbia service area, including Langley, Vancouver, Surrey, surrounding areas such as North Vancouver, Maple Ridge, Coquitlam, Chilliwack, Abbotsford, Burnaby, Port Coquitlam, and nearby.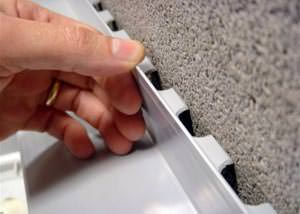 The WaterGuard® Below-Floor Drain System is designed with a built-in wall flange, which extends up your basement wall by 3/8".
Any water leaking from the walls will move downward and behind this flange, where it is then directed into the WaterGuard® system.
Collecting Water From Wall Cracks
Basement walls can flood from many points -- including from wall cracks, pipe or wire penetrations, and through basement windows.
At Basement Systems Vancouver, we have many products that can collect this water from the walls and redirect it to your below-floor drain -- including our WellDuct® Window Drain.
Water collected by these systems is then drained down to your WaterGuard® System and directed to your sump system.
Fixing Leaking Concrete Block Walls
If you have block walls, water can build up in the empty cavity of each block. Eventually, this water seeps through and enters your home.
The key to solving this problem is to give the water a way to drain out of the cavities. To accomplish this, we drill "weep holes" in each block, which drain the block of water as it fills.
This water is released behind the wall flange of the WaterGuard® system, which directs this water into your below-floor drain.
Why Not Use PVC Pipe For Your Below-Floor Drain?
Typical below-floor drain systems use PVC pipe sections and make for a difficult installation. These wide sections of pipe are too large to rest on the footing, so extra floor will need to be removed to install it in front of the footing instead. That means extra work for you!
Because they sit in front of the footing, they will have to sit in the "mud zone" -- which makes them highly vulnerable to clogging with mud. And because they don't come with a wall flange, a 1/2" gap will be left along the edges -- which is notorious for clogging with debris from the floor.
Install Our Below-Floor Drain System In Your Home!
Our patented WaterGuard® System is the result of more than two decades of research and development by the world's largest network of waterproofers -- and is backed by a lifetime transferable written warranty! This system has been successfully used in hundreds of thousands of basements in more than three continents, and is a proven way to permanently dry your basement.
For more information, contact us today for a free basement waterproofing quote! We'll stop by your home to provide an on-site inspection and measurement of your basement. Our visit includes an on-site consultation where we answer any questions you may have, as well as a customized cost quote for all work you'd like to have done.
Our British Columbia service area includes Surrey, Vancouver, Langley, nearby North Vancouver, Maple Ridge, Coquitlam, Chilliwack, Abbotsford, Burnaby, Port Coquitlam, and the surrounding area. Don't wait to transform your basement into dry, usable space! Contact us by phone or e-mail today to get started!
Looking for a price? Get a no cost, no obligation free estimate.