Basement Waterproofing and Musty Crawl Space Repair Experts in Vancouver, Surrey, Burnaby, Delta, Richmond, BC
Foundation crack and leak repairs in Surrey, Vancouver, Burnaby
We repair residential and commercial foundation water penetration problems. Our waterproofing professionals are factory trained, and certified. They will analyze your foundation water issues and provide long term solutions that carry a full warranty.Basement Systems Vancouver specializes in repairing wet basements, damp, musty smelling crawl spaces and leaky foundation cracks, as well as finding solutions for mould problems in Vancouver, Surrey, Burnaby, Richmond, Abbotsford, Coquitlam, Delta, Langley, Maple Ridge, Chilliwack, and the surrounding areas in British Columbia.
If you'd like a dry basement or crawlspace, we will assess why you have water problems and repair the moisture issues. This will be backed with our Nationally Backed Transferable Warranty.
Customer Review
"Everyone was great, job looks awesome."

"Hope the product works as it was stated too do, the proof will be in the..."

"Installing the 'turtle' was a tough job. I'm surprised that this wasn't a..."

By MARGARET E.
MISSION, BC

"Work done was fast and efficient. The crawlspace is so bright white and..."

"Great crew & job well done except for being a week late, also had a..."

"Thank you I look forward to having a warming winter this year and lower..."

"I would highly recommend Basement Systems to anybody with water basement..."

By Richard R.
Port Coquitlam, BC

"very pleased with the whole experience"

By Glenn L.
Chilliwack, BC

"We would like to thank your company for the expert way this problem was..."

By Agathe S.
Abbotsford, BC

"When I received the glossy brochure from Vancouver Basement System after..."

"your company made the differecne between buying or turning away a real..."

"Entire process was done excellently and professional. Easy to talk to..."

By Teressa P.
Langley, BC

"Overall a good experience. Staff was very courteous and informative. Job..."

By Bob
North Vancouver, BC

"Your crew are really professional and a great experience. Thanks!"

"From the time Rob came, scheduling with the office staff until the crew..."
Our Services
Our Business is Based on 100% Customer Satisfaction!
We service the Lower Mainland and Fraser Valley areas. Basement Systems Vancouver is the BC Distributor of Cosella-Dorken's Delta-MS, Delta-FL and Delta Drain. Delta-MS, which we feel is the best quality air gap drainage membrane, has been protecting new and existing foundations for over 27 years worldwide with a 50 year manufacturer backed warranty.
When you choose Basement Systems Vancouver, you don't just choose Basement Systems Vancouver - you choose and receive the knowledge, expertise and experience to ensure your waterproofing investment is a great choice.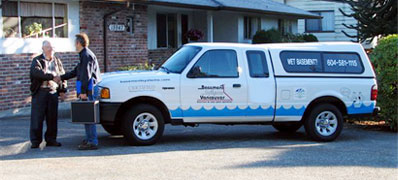 "A HEALTHY HOME STARTS WITH A DRY BASEMENT"
Basements cannot be "fixed for under $100" nor are they easy, do-it-yourself projects for Joe Weekend. This is one of the home repair parts best left to professionals due to the use of basements and crawl spaces nowadays.
No longer just storage areas, today's basements are finished to the same degree of quality as the main level with many expensive items and furnishings.
Homeowners are demanding the peace of mind which comes with knowing that their basement won't leak, and that any repair work done in their basement comes with a long term warranty.
At Basement Systems Vancouver we understand how important your home is to you, and treat your home like it was our home. Basements are an integral part of your building envelope (your whole house) and cannot be ignored, as they once were. Nobody wants a wet basement in the biggest investment of their life!
As basement waterproofing and crawl space repair experts, we can provide you with solutions to keep your basement or crawl space dry, and free from mold. Whether it's installing a waterproofing system in your basement, insulating your crawl space, or help with controlling mold, we're here to help!
Contact us today for your FREE crawl space repair or basement waterproofing quote in Richmond, Vancouver, Surrey, Burnaby, Abbotsford, Coquitlam, Delta, Langley, Maple Ridge, Chilliwack, North Vancouver, Port Coquitlam, New Westminster, Mission, Port Moody, West Vancouver, White Rock, and the surrounding areas in British Columbia.
Looking for a price? Get a no cost, no obligation free estimate.